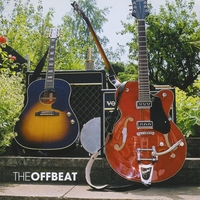 Disco de debut de estos británicos cuyo sonido evidencia claras influencias del pop de los sesenta, el merseybeat, etc. Seguro que adoran a los beatles, los kinks, hollies, etc.
Están producidos por Nigel Clark, que imagino que es el lider de los fabulosos Dodgy.
Esto dicen de su disco:
The vintage guitars on the cover tell it all: The Offbeat is all about 60s British pop, jangle pop, and all points in between. The is without a doubt the best album of its kind since The Red Button and Smith & Hayes from last year, and needless to say, fans of those discs will want to snap this one up. The Offbeat are actually English, so in that respect they have one up on the Yanks who served the style so well on those other discs. In fact, there truly isn't a bad track on this album, and if the calendar read 1965 instead of 2008, these guys would be regulars on Top of the Pops and American Bandstand. I'd say we have a real top 10 of 2008 contender on our hands here.
El disco es todo un compendio de perfectas melodías pop y esta es una preciosa canción que se incluye en él.
"say the word"