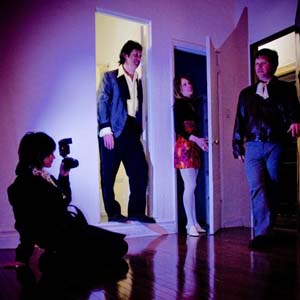 Otra de las grandes sorpresas de finales de año. Otro debut de una banda compuesta por gente de Guided by voices, Luna, Dambuilders y que en su disco cuenta con innumerables colaboraciones.
Son 10 notables canciones. Estas dos son una buena muestra de como son capaces de combinar melodías y estribillos contagiosos. Perfect pop songs.
Gramercy Arms is an ever (r)evolving collective band project of New York-based artists.

On this record, Gramercy Arms comprises members of Guided By Voices, Luna, Joan as Police Woman, Dead Air and The Dambuilders, along with comic Sarah Silverman, Their self-titled debut album is a summery blast of gorgeous power pop, heartfelt tales of love and loss and the city they call their home.
In addition the album features performances Lloyd Cole, Chris Brokaw as well as members of The Pernice Brothers, Mascott, Shudder to Think and others. the record was recorded in Winter of 2008, produced by Dave Derby with additional production by Nathan Larson and Thom Monahan.
shining bright
http://www.goear.com/listen.php?v=f7de988
fakin´
http://www.goear.com/listen.php?v=fdc6de7