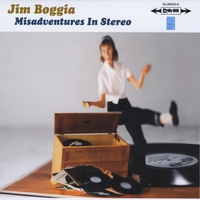 Toda una declaración de intenciones para esta gran canción del último disco de Jim Boggia.
Unos datos suyos del wikipedia:
Jim Boggia was born in Royal Oak, Michigan. At birth, he was declared legally blind in his left eye. He began playing the guitar at age five, encouraged by his musician father.[1] He eventually moved to Philadelphia in order to work as a customer service representative in a high-tech studio equipment company.[2]
Boggia later quit his job and began his musical career by doing session work, jingles, and writing songs for other musical artists. He played or toured with various artists including Juliana Hatfield, Jill Sobule, Amanda Marshall, and Bernadette Peters. In 1998 he formed a band with Mike Frank, Kevin Hanson, Erik Johnson, and Steve Beskrone.[3] He was also a member of the band 4 Way Street along with Ben Arnold, Scott Bricklin and Joseph Parsons.[4] In 2001, Boggia released his first full-length solo studio album Fidelity is the Enemy. The track "Several Thousand" was featured on the ABC show Men in Trees.
In 2005, Boggia released a follow-up album, Safe In Sound. The song "Live the Proof" appeared in a BlackBerry commercial.[5] He released a third album on August 5, 2008 entitled Misadventures in Stereo.[5] The album features collaborations with lyricist Tony Asher, NRBQ guitarist Big Al Anderson, and singer songwriter David Poe. He also released a mono mix of the album on August 19, 2008 that was issued in the vinyl format.[6]
Jim Boggia has a variety of musical influences including Simon & Garfunkel, Harry Nilsson, Cat Stevens, and Brian Wilson. He also is a fan of the Beatles, having performed in various Beatles tribute concerts as well as a recreation of their famous rooftop concert.[7]