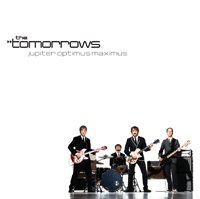 Banda canadiense que surgió tras la disolución de THE ROSWELLS. Debutan con un disco llamado "Jupiter Optimus Maximus" que es todo un homenaje al sonido Beatle-Badfinger-Raspberries.
The new release "Jupiter Optimus Maximus" from Canada's The Tomorrows (ex-Roswells) lives up to the majesty of that name and then some. There is nothing small about this record...enormous hooks, big melodies, and a huge wall of sound.

The Tomorrows (Marc Stewart, Scott Fletcher, Tony Kerr and Adrian Buckley) could perhaps be more aptly referred to as "The Yesterdays", being a living tribute to their musical influences. They faithfully recapture all of the elements we love in the founders of the power pop genre, from The Beatles to Badfinger to The Raspberries. Here you can hear fresh Beatlesque choruses throughout, and even an extended coda on "Remember" reminiscent of what the Beatles did with "Hey Jude". For those of you digging The Goldbergs, you'll also dig The Tomorrows.
This modern day fab four have a great chemistry and a knack for designing harmonies that seem to melt right into your ears. It is difficult to pick favorites from such a strong batch of tunes, but standout tracks for me include the catchy radio-friendly opener, "Effortless lee", the harmony-laden and soaring title track, the breezy acoustic-based "Such A Shame", and the rocker with attitude, "Goodbye".
"pity her" nos redescubre las mejores melodías de Raspberries.
http://www.goear.com/listen.php?v=c7d06dc
Recomendada por el POPCHEF