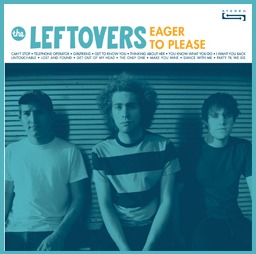 Trallazo punkpowerpopero extraido de su último disco "Eager to Please"
"I want you back"
http://www.goear.com/listen/5b10802/I-Want-You-Back-The-Leftovers
De su myspace:
Here it is! The Leftovers brand new album! Produced by Linus of Hollywood in the Summer of 2008, "Eager to Please" picks up right where "On the Move" left off. Filled with ultra-catchy power pop gems, "Eager to Please" successfully combines the classic 60's sounds of The Beatles, Beach Boys and Phil Spector and the 70's Power Pop of Elvis Costello, The Romantics and the Rubinoos, while keeping the upbeat energy of the Ramones and The Queers. That's right folks, "Eager to Please" has a little something for every fan of Pop music.

Recorded at Kingsize Sound Labs in Eagle Rock, California, The Lefovers new album "Eager to Please" features an array of wonderful guest musicians including Kim Shattuck of The Muffs, Brett Anderson of The Donnas, Parry Gripp from Nerf Herder, Coz Canler from the Romantics and Jon Rubin of the Rubinoos!

"Eager to Please" will be out June 9th 2009, on Crappy Records, the new label from Oglio Records, Jeret Reddick (Bowling For Soup) and Linus of Hollywood.