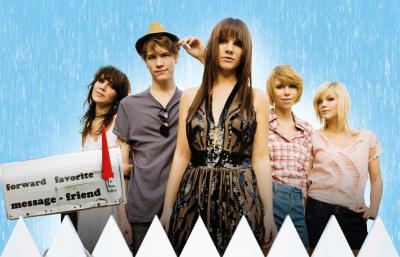 The Bridges were born July, 2002 with a disposition to blend lyric and harmony with haunting melodies and the poetry of reality.
Brittany Painter lends her gifted voice, writing, and acoustic guitar to providing the basis for intriguing arrangements in an acoustic style reminiscent of the sixties and seventies.
Natalie Byrd and Stacey Byrd provide the truly unique harmonies as well as playing acoustic guitar, electric guitar, and keyboards. Jeremy Byrd on drums and Isaaca Byrd on bass add a full and forceful edge to the acoustic foundation.
The cousins hail from North Carolina and are presently based in Oxford, Alabama, coming together in 2002 to begin in earnest the pursuit of music writing, arranging, recording, performing, and enjoying the gift.
This new, old sound is full of the issues of youthful life with a strange and compelling appeal to those who have gone this way before. This masterful mix of pop, folk and indie rock leaves you confident and expectant.
Get ready to enjoy these fresh songs that carry the listener through a wonderful range of sound and emotion introducing- The Bridges
Y además su disco de debut lo produce nada mas y nada menos que Matthew Sweet.
Esta canción lo abre y está recomendada por el POPCHEF