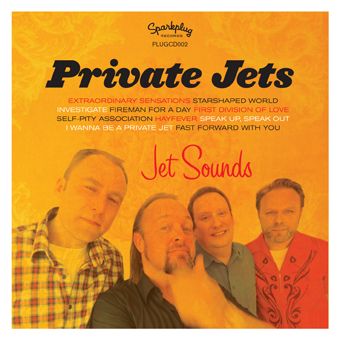 Mi disco favorito de este verano, con el que mas he disfrutado, saltado y emocionado.
Conoci a esta banda sueca hace ya seis años cuando editaron un ep lleno de melodías pop como sólo los nórdicos saben hacer. Cuando parecía que ya nada mas sabríamos de ellos editan este año su primer cd, "JET SOUNDS", con 12 canciones POP absolutamente contagiosas.
Sus influencias: bandas suecas como the merrymakers, jellyfish, elo, the beach boys, raspberries...resultado final: disco delicioso, para disfrutar de cabo a rabo.
He seleccionado dos temas pero muy bien podrían haber sido otros diferentes.
ABSOLUTAMENTE recomendado por el POPCHEF
"investigate" http://www.goear.com/listen.php?v=f0bb409
"extraordinary sensations" http://www.goear.com/listen.php?v=837f13d
Classic Swedish power pop in the mold of The Merrymakers and Beagle for fans who have been missing it, The Private Jets have the sunny harmonies and sweet melodies with plenty of guitars and keyboards. The twin brothers Erik Westin and Per Westin have simplistic approach that can't fail to hit the sweet spot with anyone who has a liking for power pop. Influences are clear here in the opener "I Wanna Be a Private Jet" - the bouncy beat resembles the Rubinoos. The follow up "Extraordinary Sensations" flirts with ELO and The Hudson Brothers, and "Speak Up, Speak Out" mines The Beagle sound perfectly. "Starshaped World" is a dead ringer for a Jellyfish composition (Should Roger Manning Jr. sue?). Some guitar riffs start to resemble Queen or Sweet, and the dual nature of "Fireman for A Day" and "Fire Academy" combines the poppiest side of The Move with Beach Boys chorals. Even "Hayfever" is a basic Beatlesque song that sounds lifted from a Spongetones album. It's hard to find a bad song on the disc, although you could say these songs sound almost too familiar for the die hard fan looking for something new. And after a few listens, some tunes are missing that hook to bring the album into excellent territory. That said it's an very good album and belongs in your collection without a doubt. "Jet Sounds" breaks the sunshine pop barrier.