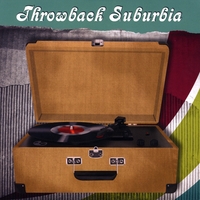 banda americana con influencias de jellyfish, raspberrires, velvet crush, tc.
De not lame:
Yup, another one that is going to end up on Top 10 and Top 20 lists for power pop fans. Throwback Suburbia is one of those bands you can reach for the shelf as an example of what `power pop` sounds like to those who don`t have a clue. All the elements are here in every one of the 13 songs here. It`s not often in these days of syrupy pop and vacuous celebrity-ism that you come across a band that is just interested in making real rock & roll. Throwback Suburbia is such a band. Endeavoring to create the kind of sound that modern pop-rock is missing by blending pop melodies and intelligent lyrics with a rock & roll attitude, Throwback Suburbia have managed to capture the essence of retro-pop and make it modern rock.
"Throwback Suburbia have captured a blend of muscular pop and intelligent songwriting that will make you happy no matter if you think pop music died when Brian stopped touring with the Beach Boys, or when Cheap Trick left the Budokan. No-frills, irresistibly catchy power pop with singalong choruses you won`t be able to get out of your head for days. Bravo Throwback Suburbia! Bravo!" " - All Access Magazine. "They have remembered what too many rock artists of late have forgotten - that truly great songs also have truly great lyrics." - Absolute Power Pop blog. No question, no doubt -- Grade: Solid `A`.
"same mistake" es la canción que recomienda el POPCHEF
http://www.goear.com/listen/6ac393a/same-mistake-throwback-suburbia